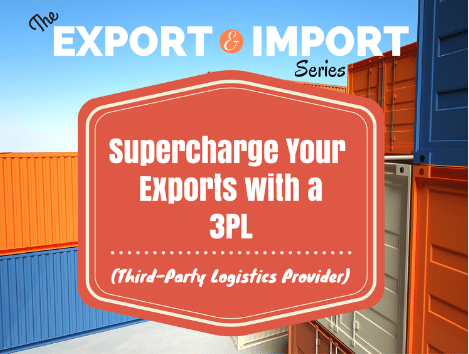 "I have a problem," the caller said to me.
"Our company's textile factory in Vietnam has been sitting idle for several weeks."
The caller explained that it's cotton supplier was unable to clear its shipping documents with customs officials.
I asked whether the company had a back-up plan to find an alternative supply.
"No," replied the caller. "We didn't think we'd ever need one."
The Cause of the Problem.
I soon learned that the company handled everything in-house and lacked the industry expertise to handle a last-minute logistics crisis like this one.
Ultimately the situation was resolved.
But not without some major headaches and significant financial losses.
The Solution
Not wanting to suffer through another supply chain crisis, the company made the wise decision to outsource its exports to a Third-Party Logistics Provider or "3PL."
The company's executives now have peace of mind knowing that its 3PL will quickly and efficiently resolve any supply chain issues that may arise in a matter of days instead of weeks.
So, What is a 3PL Anyway?
A 3PL is a company that works with shippers to manage their logistics operations.
Logistics can include elements of warehousing, transportation management software, freight rate negotiation, in-depth reporting, forecasting, freight bill auditing and much more.
There are many 3PLs in the market that have different models and perform different tasks. Some 3PLs will specialize in certain industries, fresh flowers for example.
Others might specialize in one specific area of logistics such as handling shipping documents, warehousing or providing logistics related software.
What Are the Benefits of a 3PL?
There are a few basic reasons why 3PL's are valuable for a company no matter what their needs may be;
Depending on a customer's need, a 3PL can:
coordinate the shipment of goods from the factory,
arrange to have cargo loaded onto the vessel and process the documentation on the shipment.
navigate through U.S. export regulations, as well as the import rules and regulations of the countries that the goods are being shipped to,
find alternative methods of shipping, and
handle all documentation connected with foreign trade.
The reasons listed above are just a small part of what a 3PL can offer a company looking to save money on freight costs, but not lose out on customer service.
How Do I Choose the Right 3PL?
It's important to do your research and interview several firms to get a feel for which one will be the best fit.
There are a variety of questions you can ask to find out which 3PL would best suit your needs:
Do you have experience with similar products and industries? It is important to find a provider that understands the challenges unique to your industry, products, customers, and organizational goals.
What differentiates you from your competitors? Some fulfillment providers may offer additional services and solutions beyond the typical fulfillment and distribution services.
What services and technology do you have to help drive our organizational goals?. learn more about how your potential provider operates and the investments they've made (and plan to make) in the
Here in Miami, there are hundreds of 3PLS competing for business. That's why it's critical to pick the right 3PL for your company.
For those looking for the most comprehensive level of service, I recommend starting with a top-tier 3PL such as Lilly & Associates.
Conclusion
Whether you're shipping a small package via air, large crates by ocean vessel or full container loads of goods, a 3PL can assist you in moving your cargo anywhere in the world at any speed you need
Even if you are an established exporter and handle everything in-house, consider utilizing the services of a 3PL.
You'll be glad you did.
The post How to Supercharge Your Exports with a Third-Party Logistics Provider (3PL). appeared first on International Business Law Advisor.
Source: International Business Law Advisor